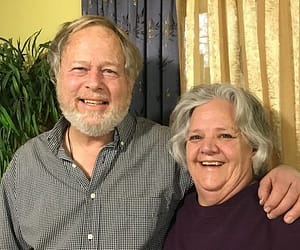 Just a quick note to let you know Dennis's first x-ray since last July came back with absolutely no signs of any cancer. It is not of course a detailed looked like a CAT scan, but if you hold them up together you can clearly see all the swelling, masses etc in the early one and absolutely nothing on the one from 2 days ago.
So we have made some good progress We have it down and now we have to beat it TO DEATH!! And that we shall. He will have another liver ultrasound in a couple of weeks and a new urine test later this month which will tell us more. In the mean time we will just keep doin" what we are doin'.
We are ecstatic of course (we never expected that) maybe a little shrinkage or less fluids, but not absolutely no signs. Even the radiologists description said there was no appearance of anything.
Thanks for all your prayers and good wishes…now with God's grace we continue the fight !
Keep praying….Ardie
Maybe a few prayers of thanks are in order now!